Podcasts & Audio
A new study from ABI Research forecasts the number of viewers who access video via the Web to nearly quadruple in the next few years, reaching more than one billion in 2013. Are you prepared?
CacheFly's scalable content delivery network is capable of handling all kinds of traffic surges, ensuring that no matter what the demand, your content will be delivered with ease. Additionally, the security of our ProtectServe platform makes sure you always maintain control of your podcast.

CacheFly supports all major media types and is easily integrated with all feed management and reporting solutions.

CacheFly's CDN offers significant advantages for podcasts, including:
Unlimited scalability and a predictable cost model
Lightning fast performance and our 100% availability SLA
Instant Setup, deliver content globally in less than 10 minutes!
Works transparently with audience measurement tools, including Feedburner and PodTrac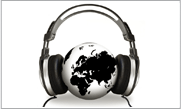 The CacheFly CDN has handled video delivery for some of the biggest names in the business, from Leo Laporte and Kevin Rose to Adam Carolla and Jason Calacanis. CacheFly delivers more top podcasts in iTunes than any other CDN, all at up to 10x the performance of other hosting solutions..

Our worldwide delivery network puts your audio files at the internet's major peering points, where we deliver it directly onto end user ("eyeball") networks directly, eliminating latency and offering unmatched performance. Stop losing your audience the slow downloads and overloaded servers.

Sign Up today and be live in less than 10 minutes!