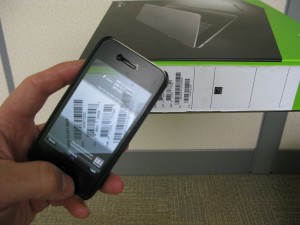 Apple shines an iBeacon on e-commerce
A feature of Apple's iOS 7 mobile operating system that has so far flown under the radar, iBeacons has the potential to revolutionize e-commerce. Leveraging the Bluetooth low energy (BLE) standard, an iBeacon tracks the micro-location of a person carrying one of Apple's mobile devices running iOS 7. This could be an iPhone, iPad, or even an iPod Touch.
The underlying concept behind iBeacons is geofencing. While today's smartphones use satellite-based GPS capabilities to track location on a larger scale, geofencing brings a finer granularity to this equation. The BLE specification features a low-power signal with a range of around 150 feet — perfect for a store or other retail establishment.
iBeacons can automatically turn on a light when it detects that someone enters a room or unlock a door when a person with the right iBeacons "key" walks up to it. BLE can also offer e-payments in a manner similar to how Google Wallet uses near field communication (NFC) technology. The potential applications for iBeacons are only limited by the imagination of the developer and access to the hardware that emits an iBeacon signal.
Interactive tours of museums or historical sites, intra-building mapping applications, and easy ticketing at sporting and entertainment events are some interesting uses of iBeacons. But the retail applications of iBeacons hold the potential for something truly revolutionary.
The retail world is poised to reap the benefits of geofencing and iBeacons
The brick-and-mortar world of retail stands to benefit from using iBeacons to enhance the in-store experience in many ways. Consider this scenario: A coupon is automatically sent to consumers' iPhones when they enter the store. This coupon could be for 15 percent off their entire order, with other coupons downloaded as shoppers browse in front of certain items.
The iBeacon signal can trigger a search of the customer's shopping history and tailor deals based on their past preferences. This is similar to what happens today with preferred shopper cards from grocery store chains, without the micro-location features offered by geofencing and iBeacons. The theory is that direct, hyper-localized advertising will improve in-store sales numbers.
The actual checkout process also becomes streamlined when using an iBeacon. As shoppers leave the store, their credit card is automatically charged the amount of the sale, while the store's anti-theft detector is turned off — perfect for customers who need to get to their car and back home quickly.
One advertising company, Sonic Notify, specializes in what is called proximity marketing, which supports iBeacons and sBeacon, another similar technology. The firm provides a turnkey solution that includes the iBeacon-emitting hardware with a platform that leverages data analytics to tailor in-store advertising to consumers in the middle of their shopping experience. Coupons and advertisements are automatically downloaded to a shopper's smartphone as they browse items.
Is iBeacons too intrusive on the shopper?
Some consumers may not be comfortable with the additional intrusion on their privacy that comes with iBeacons, and can turn off the iBeacon receiver on their mobile device. It is important for retailers to offer customers a compelling reason to use the service, and additional savings tailored to their shopping history hits the mark for many shoppers.
The popularity of services like Foursquare signal the potential for location tracking in retail, even if a portion of the consumer audience will always prefer their privacy. Those customers might end up getting lost in a large big-box store, while other shoppers are seamlessly directed from iBeacon to iBeacon, finding the latest sales and the hottest items. The added ease of iBeacons-driven checkout is another tangible benefit to the consumer.Retailers need to make sure their systems are ready for iBeacons
While iBeacons for retail is primarily an in-store experience, stores looking to implement the service need to ensure their back-end systems and website are operating at the fastest possible speed. The benefits of a simplified checkout process are all for naught if the customer's e-commerce transaction is too slow. Shoppers directed to the company website on their smartphone when in front of the item they are browsing might lose interest if the page loads too slowly.
Partnering with a leading content delivery network (CDN) can help retailers derive the most benefit from their investment in proximity marketing. The best CDNs use TCP-anycast routing and are able to offload Web page content, ensuring it reaches the shopper's smartphone as fast as possible. CDNs that access the Internet's leading peering points allow fast access to rich media, like in-store advertising, no matter the shopper's location.
The promise of iBeacons means many things, but for e-commerce, it offers shoppers a revolutionary in-store experience. Retailers looking at implementing geofencing in their stores need to make sure their back-end IT is up to the challenge. Working closely with a quality CDN helps to achieve the promise of this new technology.
Photo credit: Flickr