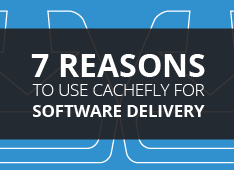 7 Reasons To Choose CacheFly for Software Delivery
Delivering slow downloads are an easy way to discourage potential customers from purchasing your software. Whether you offer large file digital downloads, or load web apps to global customers, speeding up delivery should be on the top of your priority list.
Not just any CDN will do. If you're a software provider, distributing large file downloads to global customers, you need CacheFly. Here are seven reasons why you should choose CacheFly to deliver your software.
1. Highest Throughput Delivery for Large Files.
How fast a user can download your software depends on a CDN's throughput performance. Throughput, also known as, Time To Last Byte (TTLB), is the rate of successful delivery, from response time—to fully downloaded files. Network monitoring companies like New Relic, Cedexis and CloudHarmony, now provide Real User Monitoring (RUM) to measure CDN throughput. What do the results show? That CacheFly's global throughput delivery performance is second-to-none.

CacheFly eclipses all major CDNs in overall throughput performance of a 100KB file in the U.S.
2. Infinite Scalability for Large Software Releases and Updates.
Scalability ensures that as your customer base grows, your download performance won't suffer—no matter the file size of your software. CacheFly is infinitely scalable to handle huge traffic surges, seamlessly.
3. Secure Delivery.
CacheFly provides a security platform that works to maintain secure control over your content. In addition to supporting SSL certificates for secure transmission of your files, CacheFly offers token-based authentication called ProtectServe, which ensures only authenticated users have access to your files.
4. Push Updates Faster.
Some CDNs will take up to 24 hours to replicate files to push your mission-critical updates. CacheFly offers super-fast replication of your content to deliver updates to your users within seconds.
5. Gzip Compression.
The larger your files, the longer it will take to deliver. CacheFly provides gzip compression to automatically compress files to further reduce transfer time. Gzip compression not only optimizes files for faster delivery, but also lowers your bandwidth costs by using less data to deliver your files to an end user.
6. 100% Availability SLA.
CacheFly ensures the highest availability and guarantees continuous network uptime 100%.  No scheduled maintenance, no emergency maintenance, no nonsense.
7. Flat-Rate Global Pricing.
CacheFly offers simple and affordable plans—with flat rate pricing for delivery to end users anywhere in the world.