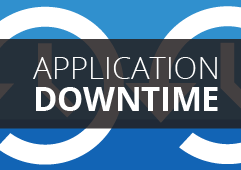 Application Downtime: A Critical Concern for SaaS & Web App Providers
———
"There are a few things worse than working your a** off for years to build a business, hustling every chance that you get, and running head on into a disaster that's out of your control and threatens to undo your dreams."    –Groove CEO and Founder, Alex Turnbull, on The Meltdown that Brought our Startup to Its Knees for 15 Hours.
———
SaaS and web app users expect continuous availability. But, what happens when downtime disrupts service? How are your users impacted?
Their productivity declines.
Their data becomes lost or idle.
They lose trust in your business.
In mission-critical cases, they lose substantial revenue.
A recent study by IDC reveals that for Fortune 1000's, the average cost of unplanned application downtime is $1.25 to $2.5 billion per year, with the average hourly cost of infrastructure failure being $100,000 per hour, and the average cost of critical application failure between $500,000 and $1 million per hour.
In 2013, Amazon Web Services experienced an outage that lasted 59 minutes and impacted AWS customers, including Instagram and Vine—and more considerably—Amazon.com. Some reports say the outage resulted in a loss of $1,104 in net sales per second—nearly $4 million in missed revenue.
What are the costs of downtime to your business?

You could face severe SLA compliance penalties.
You're left to do damage control, because negative publicity has tarnished your company's reputation and customer relationships.
According to Kissmetrics, 44% of online shoppers are likely to tell others about a bad online experience.
You lose the revenue you could have retained—had you provided the level of service you promised. Ponemon, an independent data protection and information security research organization, estimates that $239,000 (37% of their estimated $474,000/hr) in losses can be attributed to customer turnover and reputation damage.
You give away your business to competitors. Frustrated users are less likely to wait.

How can you recover and mitigate the risk of downtime?
Many turn to DevOps teams to lead the disaster recovery effort by upgrading server architecture and automating infrastructure.  However, businesses can optimize the costs of fully managing recovery efforts on their own by partnering with a CDN to ensure high availability and high performance. But, not just any CDN provider.
You need a resilient CDN that offers consistently high reliability and availability.
Since 2002, CacheFly has been delivering its global customers with the highest throughput performance and availability for a better end-user experience.  CacheFly's new SaaS Acceleration improves customer experience and user productivity, saves costs, and speeds up your app delivery. This high availability, high performance dynamic delivery CDN—custom built for SaaS and web apps, features:
100% Network Uptime Guarantee.
SaaS Acceleration offers 100% network uptime to your end users—not 99%, 99.5%, 99.9%, 99.99%, or even 99.999%. There's a difference between a network provider who offers 99.95% vs. 100% SLA—where 99.95% equates to 4.38 hours of 'acceptable' downtime per year.
Your App—served from the best high availability peering partners.
SaaS Acceleration partners with only the best high availability data centers, including: Equinix, TelX, GTT, ServerCentral, Terremark, Level3, and Interxion, and more.
Immediate Active Failover Capabilities.
Active failover dynamically routes around outages to find the best path and deliver 100% uptime.
High Throughout Performance.
Delivers the fastest file performance—regardless of file size.
Performance Transparency.
If there is ever a service disruption, CacheFly users are informed of it via the status page.
Partner with a CDN provider that delivers the level of service your users expect. Sign up for CacheFly's SaaS Acceleration…coming soon.
Sign up now and get on the early access wait list!