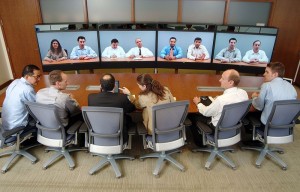 Benefits of video conferencing and VoIP: Let's talk
Video content will represent 80 to 90 percent of all consumer Internet traffic by 2017, generating 1.4 zettabytes of traffic
per year, according to network giant Cisco Systems. Meanwhile, the Voice over Internet Protocol (VoIP) market already generates over $30 billion in revenue annually and continues to muscle out traditional telephone lines. But what are the real benefits of video conferencing and VoIP? Are these trend predictions right on the money or missing the mark?
Think local, speak global
One of the biggest adoption drivers of video conferencing and IP communications is reduced travel costs. Fifty-six percent of global CFOs said they would invest in IP conference technology to reduce travel budgets, and 70 percent of small and medium enterprises (SMEs) said they preferred video communications over traveling to meetings. VoIP is also making big strides, thanks in part to decisions by the US Federal Communications Commission (FCC) to abstain from controlling or limiting voice traffic over the Internet, making it a cost-effective alternative to traditional telephone lines.
Beyond budget, however, there's significant business and consumer interest in global IP communications for two main reasons. The first is convenience: Reduced VoIP latency times and the advent of 500 megabyte per second (Mbps) or better fiber optic connections eliminate the delay between request and response, meaning companies can communicate in real time even if branch offices are located half a world away. The other reason for increased focus on local thinking and global speaking is the benefit of add-ons. Consider a video call with shareholders or partners: With the right connection and computing resources, companies can deliver more than just a dry presentation with the addition of interactive charts and predictions, while project teams can collaborate across the globe with shared desktops and applications.
Theory and practice
Of course, there are also barriers to adoption. The most critical is speed: The so-called "Skype revolution" was slow in coming because 3G connections simply weren't up to the task of delivering high-bandwidth content. But improved wireless standards — like 802.11ac, for example — and recent fiber optic developments like the 1.4 terabyte transfer test in the United Kingdom point to a tech landscape better suited to handle the rigor of video and VoIP. Cellular networks are also better off as 4G becomes standard in many urban centers.
As Cisco points out, however, companies won't be able to handle increased bandwidth demands using local servers alone. By 2017, the company predicts that 51 percent of all Internet traffic will be handled by content delivery networks (CDNs), and these networks will account for 65 percent of all video traffic. Why? Because as device speed increases, consumer and corporate tolerance for delay sharply decreases. Choppy video, lagging sound, and intermittent connectivity were all par for the course on 3G, ADSL, and cable networks, but with the promise of increased bandwidth fidelity comes greater expectations.
The benefits of video conferencing and VoIP start locally, allowing companies to compete globally without ever leaving home. But investing in server technology robust enough to carry the volume of video traffic necessary eliminates any gain from improved communication; hardware costs outpace video or voice software benefits. To get in on the ground floor of global communications, companies need to identify a CDN provider with seamless video integration, on-demand bandwidth scaling and real-time reporting. Whether it's face-to-face meetings, video content on websites, or day-to-day VoIP calling, effective use of video conferencing and IP telephony start with the right delivery infrastructure.
Photo credit: Wikimedia Commons