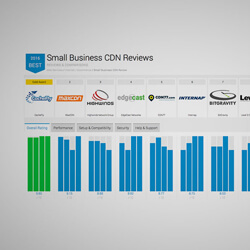 CacheFly Listed No. 1 Best CDN for 3rd Consecutive Year
TopTenReviews names CacheFly #1, and Gold and Excellence award winner for best CDN—for the third consecutive year.
TopTenReviews, a leading independent third-party products, services and software reviewer, released its 2016 Small Business CDN Reviews and Comparisons—naming CacheFly #1, and Gold and Excellence award winner for best CDN—for the third consecutive year.
According to Ryan Hansen of TopTenReviews, "CacheFly's simple pricing model, extensive selection of services and excellent performance puts it at the top of Content Delivery Networks for small businesses."
2016 Small Business CDN Review includes reviews and comparisons of some of top CDN providers: CacheFly, MaxCDN, Highwinds, Verizon Digital Media (formerly EdgeCast), Amazon CloudFront, CDNetworks, Internap, Level 3 Communications, CDN77, and BitGravity.
The independent reviewer, found the following features from CacheFly's setup and compatibility, security, and help and support offerings, most notable:
Simplicity in performance and service
Pay-As-You-Go pricing model—no contract
Instant Activation
Global delivery to 40+ POPs
Real-time reporting
Full support of gzip compression
Support of expires headers
Extra security with ProtectServe platform
Ability to redirect authentication failures to a URL
Complete control over subscription content, URL and Referrer Blocking (to prevent hotlinking from unauthorized requests)
Provides its own SSL certificate
Free support, and live chat service
100% uptime SLA guarantee
CDN PERFORMANCE COMPARISON
Using Cedexis, an independent performance monitor of cloud-based web and mobile applications, TopTenReviews performed multiple tests on multiple days to determine average response times and error rates. CacheFly consistently scored best in fast response times and low error rates. 
Using Cedexis, TopTenReviews found CacheFly  best in highest average response time and lowest error rates.
To accurately measure performance metrics with Cedexis, TopTenReviews was able to pull data from actual end users of CDN providers to gain insight into real-time performance metrics available to the public. In addition, the independent reviewer, obtained test accounts with each CDN provider for access to each control panel—to evaluate overall usability on features, such as reporting and analytics.
CacheFly is no stranger to high marks on performance. In 2014, CloudHarmony, a cloud performance benchmarking provider, released its "Cloud Speedtest," testing average latency and throughput performance of major CDN providers for a 4-year span, from 2011-2014. The report found CacheFly CDN, #1 in overall global throughput performance—for both small and large file throughput.
In 2010, Paessler, a leading worldwide network monitoring software provider, conducted a "Real World" Performance Comparison of Content Delivery Network (CDN) Providers, monitoring the performance of 24 CDN and cloud providers using their own Internet connection. The findings determined CacheFly to have performed the fastest in all four categories (1st and average request time, globally and USA).
TopTenReviews' criteria for reviewing and comparing CDNs included average response time (in milliseconds), error rate, Points of Presence (overall and USA only), real-time reporting, full Gzip compression support, instant activation, transparent pricing, contract-free, API support, control panel, static file delivery, video streaming, storage, multi-CDN compatibility, software distribution, game publishing, dynamic content acceleration, support of shared and custom SSL certificates, security threat protection, token authentication, support, and 100% uptime guarantee.