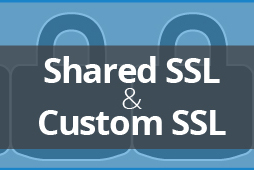 CacheFly SSL Support
We receive a lot of questions regarding our SSL support. CacheFly provides a few options to make sure your content is securely delivered. Let's go over the SSL options that CacheFly provides.
Shared Domain
The Shared Domain option uses CacheFly's SAN certificate's wildcard for the cachefly.net domain. Shared Domain SSL is provided, free of charge, on every CacheFly account. This allows you to take advantage of the encryption that SSL provides without the need to purchase SSL support. Because this option uses our cachefly.net domain you may only want to use this option when there isn't a need to have your own domain in the URL of a static object. This is usually used to avoid browser warnings when loading static content on a page that is encrypted with another certificicate. Unlike other CDNs, we do not charge extra for SSL requests, and SSL is available immediately following account creation.
Shared Certificate
The Shared Certificate service option uses CacheFly's SAN certificate like our Shared Domain option, but instead of using CacheFly's wildcard shared domain, you get to use your own custom domain name. This would be a good option if you required SSL encryption on your static content and there's a possibility of seeing the URL in your browser address bar. Some prefer, or require that the domain for the static content match that of the site referencing that content. The addition of your domain name to our SAN certificate requires authorization from you, to our Cert provider, and generally takes 24 hours to setup.
Shared Wildcard Certificates
If you have more than one sub domain that you would like to use to secure you content we also offer Shared Wildcard Certificates. This option works like our Shared Certificate offering—but instead of adding a static domain to our cert, you can choose to add a wildcard domain. This may make more economical sense if you have lots of sub domains that you would like us to support.
Both of our Shared certificate services have fees associated with them. This is includes a setup fee, and an MRC (Monthly Recurring Cost). Your sales manager can supply you with the details regarding the costs associated with each certificate, and work with you to get these certificate options enabled on your account.