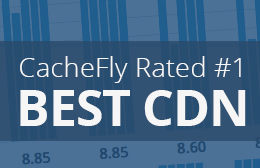 CacheFly Tops "Best CDN" List for Second Year in a Row
For the second consecutive year, TopTenReviews, a leading independent third-party products, services and software reviewer, released its 2015 Small Business CDN Reviews and Comparisons, naming CacheFly #1, and Gold and Excellence award winner for best CDN in that category.
The 2015 Small Business CDN Review includes reviews and comparisons of some of the top performing CDN providers: Highwinds, MaxCDN, EdgeCast/Verizon, Amazon CloudFront, CDNetworks, Internap, CDN77, and BitGravity.


According to TopTenReviews, "CacheFly's simple pricing model, extensive selection of services and excellent performance puts it at the top of website accelerators for small businesses…for what you get, CacheFly offers the best and most transparent bang for your buck."
TopTenReviews used data from multiple tests on multiple days using Cedexis, an independent tester of cloud products, to determine average CDN response time, and average error rates. Criteria for reviewing and comparing the CDNs included average response time (in milliseconds), error rate, Points of Presence (overall and USA only), real-time reporting, full Gzip compression support, instant activation, transparent pricing, contract-free, API support, control panel, static file delivery, video streaming, storage, multi-CDN compatibility, software distribution, game publishing, dynamic content acceleration, support of shared and custom SSL certificates, security threat protection, token authentication, support, and 100% uptime guarantee.