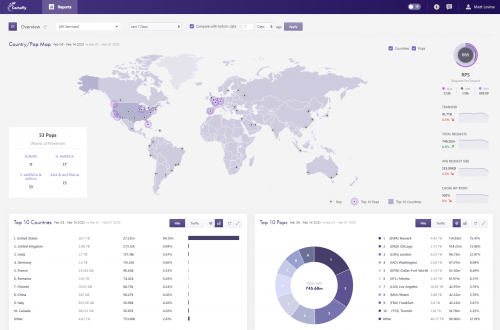 CacheFly's New Stats Dashboard Live in the Portal
For the last few months, the CacheFly team has been hard at work to better serve our customers by improving our portal. The first result of this on-going project, our new Analytics Dashboard, is now live, and we are excited to show it off.
We've launched our Analytics Dashboard in a new and updated view of our portal. The new dashboard is in beta, and current customers have access to their existing portal and all new customers. Feel free to take a look and poke around if you're a current CacheFly customer – we'd love to hear your feedback.
Here's a sneak peek:
You'll notice an immediate difference in the new layout, as you are now greeted by a map that provides a graphical overview of your delivery, mixing final delivery stats with easily digestible geographic information. To the left, you can see which of our 55 global PoPs your account is using, and below some quick stats regarding your top 10 countries and top 10 PoPs.  Click through on any section header, and you can get more detailed information on the complete data set.
Cache-Hit Ratios have always been a critical CDN performance indicator, and now you can view and compare your performance this week with historical data.  In conjunction with the Traffic stats, which can also be clicked into for more detail, you can now quickly determine traffic and performance trends and calculate usage.
Day-by-day breakdowns, combined with a previous week or monthly data, can help you spot trends or changes in your delivery profile.
Get a sneak peek at where you are growing organically. PoP Traffic can help you determine where your customers are and how they interact with our network and yours.
File-level data can help you find errors or spot content that is "hotter" than you may have thought. We provide both Top File and Top Referrer data to help with those investigations.
As CacheFly's development team has worked on this project, we've focused on an API first model. This new Analytics Dashboard is just the first result of that process. There are many new API calls on the horizon, and you'll be seeing continual updates from us as we roll out further modules and products. As always, we put our customers first, so if there's a particular feature you're looking for in the new portal – please reach out to your account team so we can discuss timelines and implementation!
Are you looking for more info? Reach out today for a demo.