Cloud benchmarking provider finds CacheFly leads in global CDN throughput
CloudHarmony, a cloud performance benchmarking provider, recently announced results of its "Cloud Speedtest," testing average latency and throughput performance of major CDN providers from 2011-2014. CloudHarmony's data was entirely based on results of over 20M CDN tests from 5.1M unique users on 27,000 different ISPs, using Maxmind's industry-leading GeoIP intelligence.
We're pleased to say that the report found the CacheFly CDN to be #1 when it comes to overall throughput performance for both small and large file throughput. In the tables below, you'll see CacheFly ranked highest among all major CDNs in 2014 for both small and large file throughput in North America, Europe, Asia and Oceania; small file throughput delivery in South America, and large file throughput delivery in Africa.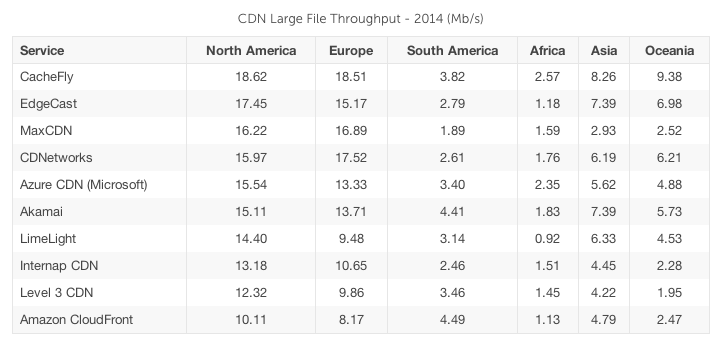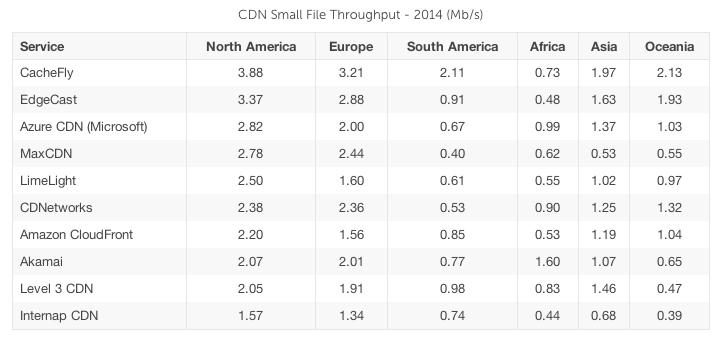 Seeing these results over such a long term study is extremely gratifying, since our entire platform has always been built around delivering our customers, the highest possible throughput. This report validates all the work our team does on a daily basis to optimize throughput. The amount and quality of the data that CloudHarmony has gathered is really impressive – they're committed to offering the best cloud benchmarks and it shows.
Jason Read, founder of CloudHarmony, noted, "We created the cloud speedtest because we think the most important feature of a CDN is how fast it gets content to users. Measuring this is challenging, however, because there are thousands of ISPs each with unique and continually changing network performance capabilities. The speedtest allows us to summarize CDN performance regionally using data from millions of real users and thousands of ISPs globally."
Read CloudHarmony's full report, CDN Performance Summary 2011-2014.