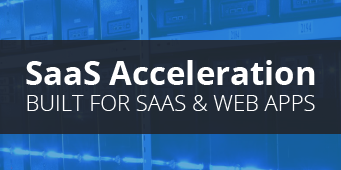 Coming Soon: SaaS Acceleration—Dynamic Delivery Built for SaaS
There's no question—SaaS adoption is growing. Global SaaS software revenues are projected to reach $106B in 2016, increasing 21% over 2015. However, the risk of slow performance is critically high.
If your SaaS app (or web app) is slow, why should your customers be loyal to you?
As you grow, billions of round trips, global requests from global customers, and constantly changing dynamic content will inevitably cause slow performance—a frustrating experience for end users. SaaS users not only want a killer product—they want a seamless and efficient end-user experience. With SaaS contracts being conveniently short, and a plethora of other options out there for them to choose from, delivering a better end-user experience now is critical.
You can ensure faster delivery to provide a better quality user experience.
We're pleased to announce we will soon be launching our new dynamic delivery CDN, SaaS Acceleration, custom-built for the fastest delivery of SaaS and web apps. SaaS Acceleration instantly delivers your mission critical apps faster for your global end users.
Delivering your SaaS app faster can help you:
Achieve LAN-like performance.
Stay ahead of other SaaS and web app providers, and compete with on-premise solutions.
Drive revenue and grow user base faster than ever before.
Reduce operational costs by offloading content from your existing infrastructure.
Be perceived as more trusted and reliable.
SaaS Acceleration is uniquely built to perform. We optimize our network using:
First-mile direct connectivity with cross-connects in on-net facilities.
First-mile on-net connectivity in AWS, Rackspace, Heroku, Digital Ocean, and more.
A global, intelligent hybrid middle-mile network.
Global multi-origin load balancing.
Drive user engagement. Be the FASTEST. Now.