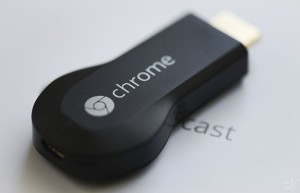 Does the new Google Chromecast hold gaming potential?
Google Chromecast, a $35 content-streaming dongle that instantly increases the intelligence of any television sporting a spare HDMI port, has made plenty of waves recently. What does the popularity of Google's media-focused streaming device mean for the fledgling video game streaming market? This question becomes increasingly relevant as content delivery networks (CDNs) continue to push the limits of what can reliably be pumped through our Internet lines, and as gaming veers toward a streaming strategy.
Similar progression for a similar market
The movie and television industries have been enjoying the benefits of CDNs for years, from the introduction of services like YouTube to devices like the new Google Chromecast. Gaming as an industry has shared a very similar technological progression and sits poised to enjoy the same power and flexibility that CDNs offer. This rings especially true given the high rate at which traditional gaming hardware becomes outdated. Just as streaming media services have removed the necessity of keeping up with the latest DVD or Blu-ray technology, online gaming services streamed through a simple television attachment would release users from costly console upgrades.
A change already underway
The gaming industry has already dipped its toes into the CDN pool with services such as OnLive Game Service, as well as the upcoming PlayStation 4's ability to stream games from its previous generations. In the case of OnLive, games are actually run and processed on high-end, remote servers which then stream the visuals back to the user's device to be decoded and viewed. This process is strikingly similar to what media services like Netflix and Hulu employ and can provide a gaming experience that is almost identical to playing on a local console.
Chromecast's great gaming opportunity
CDN-backed gaming could get a sizable boost in momentum with a product like Google Chromecast. Google's stated intentions for the device currently only encompass movie, television show, and music streaming. Look a little closer, however, and it's easy to see the potential for something bigger from the Mountain View, California-based company. By integrating existing software like the Chrome or Android OS with Chromecast, Google could push CDN-based gaming into the spotlight by streaming its large catalogue of compatible games straight to your living room via the surprisingly low-cost dongle.
A casual point of entry
Such technology may be more suited to casual gaming, the likes of which we've seen on mobile devices for some years. Should Chromecast take advantage of the low cost of entry and allow casual gamers the ability to stream their entertainment of choice to their living room television, other tech giants may follow suit. It's also difficult to ignore the allure of the casual gaming market and its explosive growth as reported by Roland Berger. Evidence of this effect can be seen through Facebook's gaming network. Though we'll have to wait to see the true impact that the Google Chromecast has on the gaming industry, there's no doubt this technology has ample opportunity to drive CDN-based gaming innovation.