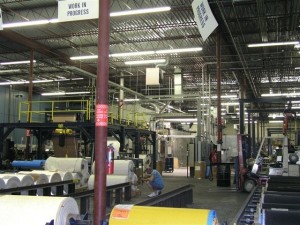 Engaging website features is a must for manufacturers
In today's competitive manufacturing marketplace, businesses can't afford to give their potential customers a subpar Internet experience. An e-commerce presence for any manufacturer must focus on offering compelling website features, including rich media content. But slow-loading pictures, low-fi podcasts, and lagging videos can arguably do more harm than good for companies if possible clients lose interest and move to a competitor's website.
In short, companies that want to set up a state-of-the-art website for their manufacturing business need to ensure that their technology partner is able to provide the right bandwidth to allow superior performance of the e-commerce features of the site.
Attracting customers' attention
Any competitive website for a manufacturing-industry business needs to provide compelling rich media content. In addition to large images with zoom and 3-D-rotation capabilities, online videos showing the item in action are a must. If other factors are equal, a potential customer looking at the same item at two different sites is more likely to buy from the company providing the more robust e-commerce experience.
At the same time, investing in production of top-of-the-line image and video content means nothing without the technology horsepower to quickly deliver that content over the Internet. Partnering with an industry-leading content delivery network (CDN) remains a great way to get the most out of an investment in rich media content.
CDNs for the manufacturing industry
The best CDNs offer companies access to a variety of source locations, ensuring that customers can check out a manufacturing-equipment video demo from anywhere in the world. Interoperability with the Internet's most popular video formats means that video content can be seen by a greater number of possible customers, and slow-loading or lagging video won't hamper the potential sale.
Robust e-commerce website features with professionally produced rich media content are vital for competing in the manufacturing industry, but don't throw away that investment by failing to leverage the technology of a CDN to serve that content to customers. A content delivery network is crucial for doing online business.
Photo credit: Wikimedia Commons