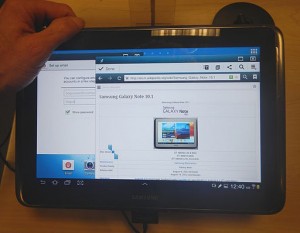 Enterprise application stores connect the mobile workforce
As mobile devices and cloud-based services become more prevalent in the enterprise, application stores are now an important part of a business's overall internal software strategy. What was formerly only in the consumer domain, with Apple's iTunes App Store and the Google Play store as the most notable examples, now influences how enterprise apps are delivered to users.
Internal programming shops are leveraging the cross-platform potential of HTML5 and other new technologies to lower mobile development costs. Executives see the success of the iTunes App Store in delivering apps in a secure, controlled environment. Naturally, when considering these two trends, it makes sense to see an increase in enterprise application stores.
Mobile access to corporate software assets driving need for enterprise app stores
Mobile devices and cloud-based service architectures combine to let employees access their work at anytime during the day (or night) no matter their location. An enterprise application store provides an organization the means to deliver apps — either internally or externally developed — to their workforce.
While Apple provides some measure of enterprise software download capabilities on the App Store, this delivery model for business is more prevalent on the Android platform. This is helpful for companies, as internal mobile developers gain access to a relatively open platform compared to iOS. Considering Android's greater susceptibility to mobile malware, a secure enterprise app store is needed to ensure nefarious apps are kept out.
A content delivery network helps when setting up application stores
When considering setting up an enterprise app store for your own business, be sure to check out the advantages derived from partnering with a quality content delivery network (CDN). The best CDNs provide a secure environment with fast downloads and superior app performance—all good attributes to have in an app store.
With businesses gaining operational efficiencies through an engaged, mobile workforce, it makes no sense to throw away those advantages by tethering an enterprise app store to substandard technology. In that situation, partnering with a CDN remains the smart way to go.
Photo Credit: Wikimedia Commons