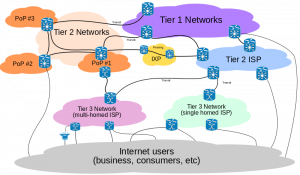 Evaluating PoPs: Where are your users?
A PoP, or point of presence, is a geolocation for information service that allows customers all over the globe to access your company's content. To improve page load and download times at a low cost, a content delivery network (CDN) will have many PoPs located throughout the world.
PoPs improve global service
One of the main services that a CDN provides is latency reduction. When trying to access content, slow download and page load times will degrade a user's overall experience with the content. Latency can be a problem if your company has customers located throughout the world trying to access your content remotely. For example, if your company is located in New York and needs to deliver content to users in London, all information transmitted will be affected by a transmission delay since the two places are geographically disparate. When information is delayed, a user will experience a disconnect between their actions and the response. With PoPs located throughout the world based on where your customers are, latency won't be an issue. A CDN can help accomplish this.
When a CDN places a PoP close to the user, the transmission delay will go down. In many ways, locating PoPs near users has a salutary effect on many factors beyond simple transmission speed. A PoP that is closer to the user will not be affected by network congestion that occurs in other nodes of the network. Other variable network parameters may show improved performance as well. The shorter the path between a PoP and a user, the faster content will travel—and when content downloads quickly, the user is happy.
Know where your users are
To evaluate PoP needs, you have to know where in the world your users are located. You also need to understand that their locations are ever-changing. Knowing where they are at all times will help tremendously in this evaluation. The more PoPs a CDN provides, the more you can ensure that your global users will experience as little latency as possible.
Photo credit: Wikimedia Commons