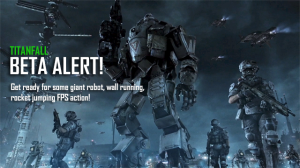 Game on for 'Titanfall' launch day
Microsoft and Electronic Arts (EA) are expecting a big payday on March 11 with the release of their widely hyped first-person shooter game, "Titanfall." The game was created by Respawn Entertainment, whose co-founders are the brains behind one of the most popular "Call of Duty" titles ever made, "Modern Warfare."
"Titanfall" held a semi-open beta event two weeks ago, which drew over 2 million players worldwide, according to Gamespot. The game now faces its toughest challenge: Launch day. PC and Xbox One gamers can expect minimal latency and server stability, though many around the world are wondering whether EA's newest "big thing" can really deliver.
Say 'Hello' to My Big Friend
Playing "Titanfall" starts simply enough — everyone in the six-on-six-person map begins as a Pilot, which means they're on foot with various handheld weapons at their disposal. It should be noted that the Smart Pistol, which can lock onto targets from afar, can also shoot around corners.
At first, the game feels like something from the "Call of Duty" series, due to its quick combat situations and responsive controls, but things quickly change. Your Pilot comes with the ability to jump twice, once on the ground and again in midair, then run along walls parkour-style. That's only half the appeal — with each member of the enemy team (both human and AI-controlled) you eliminate, the countdown timer for your Titan gets shorter. What's a Titan? Imagine a giant robot with rocket launchers. When their countdown timer ends, Pilots can call their Titans down for assistance. These metal behemoths don't just appear, but rather come screaming out of the sky to land with concussive force. Hop in, and suddenly you're in control of a massive mobile weapons system.
The game's fluidity and unique game-play style have already garnered industry awards and fan acclaim. However, "Titanfall's" biggest hurdle has yet to come.
Playing Ping-Pong
With the game's launch less than a week away, there is some concern that Microsoft's Azure cloud servers won't be able to handle the massive load, especially for gamers who aren't located near one of the Redmond Giant's data centers. A recent Lazy Gamer article discusses playing the beta in South Africa and notes that the best "ping" possible came from servers in West and North Europe, at just over 200 milliseconds (ms). Anything in the United States was well over 250 ms. Although the game is more tolerant of latency issues than the average first-person shooter game, latency over 200 ms can lead to odd character movement and sudden teleporting as servers catch up with desktop or console requests.
Microsoft and EA may make use of a content delivery network (CDN) to assist with the initial rush of digital downloads and help minimize latency for players worldwide. Secure downloads and unlimited scalability are key on a worldwide network with access to the Internet's major peering points. CDN requirements may be scaled back as demand stabilizes, but Respawn can't afford missteps on launch day.
Simply put, gamers are infatuated with "Titanfall," but if Day One doesn't go as planned, many could say "goodbye" to big robots in favor of other games.
Photo credit: Flickr