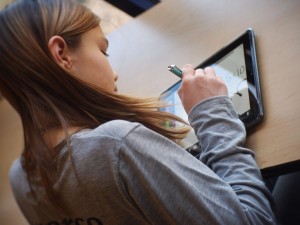 Mobile technology in education promises to shape our future
Modern technology is rapidly changing the world around us, especially the classrooms that shape the minds of the future. Technology in education is poised to take on a much bigger role than it has in years past. With the help of today's high-speed content delivery networks (CDNs), teachers and students are moving past traditional electronic textbooks and into the realm of fully-integrated digital lessons.
Embracing mobile technology in the classroom
Classrooms across the world today look very different from those of even ten years ago. Mobile devices permeate virtually every aspect of a typical school day. Though not all of these devices are officially integrated within curriculum, they nevertheless represent a unique opportunity as potent platforms for education. According to the National Survey on Mobile Technology for K-12 Education sponsored by Amplify, tablet sales have grown almost 70 percent from 2012 to 2013. A full 23 percent of teens now own a tablet, while more than 33 percent own a smartphone.
Not only are the youth in our schools adopting mobile technology at an increased pace, but the schools themselves are quickly following suit. In the Amplify survey, nearly 60 percent of responding K-12 districts reported adopting mobile technology in education throughout at least 25 percent of their schools, with over 15 percent likely to make a move to mobile in the next one to two years. In addition to school-funded technology initiatives, more than 23 percent of respondents encourage a bring your own device (BYOD) culture to augment their digital classrooms.
Digital classrooms taking shape
Piggybacking on this proliferation of mobile technology among today's youth — and the classrooms they occupy — companies like Amplify are paving the way to innovative digital classroom experiences. These new classrooms of the digital age will use tablets and smartphones as all-in-one teaching tools. From classroom activities to assigned homework, students and teachers alike will be able to utilize their mobile devices to leverage the limitless information and resources on the Web.
In Amplify's solution, the tablet becomes a student's "digital backpack," providing all classroom resources in a compact Android device. Based on a custom Android build, this tablet provides an affordable, SaaS-based approach to the digital classroom. Teachers can manage all students in a centralized manner while also maintaining the ability to tailor classroom resources to an individual student's needs on a one-to-one basis. This is accomplished with a central portal that allows the teacher to apportion class materials to individual students. Amplify isn't alone in the arena, either; competing solutions from companies like SmartTech and ClassTeacher provide equally compelling products.
The keys to success
Though the advancements made in mobile technology and the proliferation of such devices have laid the foundation for a digital classroom revolution, there remains one other key ingredient: a reliable way to deliver these digital classroom resources in a quick, easily manageable fashion. Enter the modern CDN. Much like the impact these content delivery networks have had on our media consumption, this technology will pave the way for mobile device adoption in the K-12 classroom.
In a world where many children learn how to navigate a mobile device before they learn to read a book, capitalizing on the opportunity for interactive learning using such a familiar and appealing tool is a no-brainer. School districts are certainly privy to this trend and are quickly making the necessary changes to adopt digital classroom strategies. As mobile technology and the networks that serve their content continue to mature, instructors will have even greater opportunities to shape the minds of our future in meaningful ways.
Photo credit: Flickr