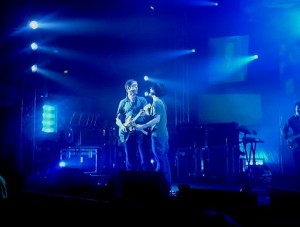 Music-streaming services change the landscape for the industry
The rapid growth of music-streaming services is changing the game for both the record industry and musicians. The success of streaming sites, such as Pandora and Spotify, is leading to established companies, like Apple, to create their own music services that are not focused on downloads. In these services, users either pay a monthly fee or listen to advertisements in between songs.
A direct result of the popularity of music-streaming sites is 2013's first ever drop in digital music sales since Apple's iTunes arrived on the scene in 2003. For many listeners, paying a fixed rate to get streaming access to a full supply of music is preferable to paying individually for each song or album download. Streaming also removes the need for users to manage their music libraries at home or in the cloud. The growing ubiquity of mobile access makes music streaming an easy process.
Is the cloud making downloading music obsolete?
For many music listeners, the difference in sound quality between a song encoded in a streamed MP3 format or a downloaded lossless-FLAC file aren't noticeable. There will always be a market for audio enthusiasts who enjoy listening to higher-quality sound-encoded files, but many users prefer are willing to forgo a level of quality for the ease of streaming, especially if they are always connected to the cloud. As higher bandwidth becomes more available, expect FLAC streaming to become more popular with audiophiles.
In short, the days of music listeners maintaining their own library of downloaded music are waning. With music streaming services becoming commonplace, online music providers need to ensure that their own listeners can stream music easily without gaps or delays.
Excellent Internet performance is a must
Companies involved in providing music, podcasts, or other audio over the cloud must provide the best-possible streaming performance for their media products. Partnering with a leading Content Delivery Network (CDN) is a great way to make sure listening customers are able to stream audio content quickly and easily.
The best CDNs access the Internet's leading peer points, getting streaming audio onto listeners' own networks seamlessly while essentially eliminating latency. The growth in music streaming means listeners expect quick and easy access to audio content. Smart content providers need to leverage the technical offerings of a CDN to ensure their customers' ears keep listening.
Photo credit: Wikimedia Commons