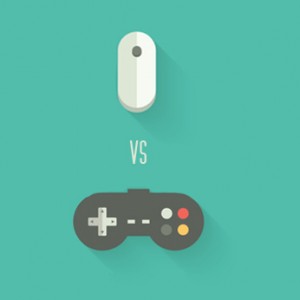 PC Versus Console: A Gamer's Choice
Today's guest post is written by SocialMonsters, a strategic content creation and publishing team based in Phoenix, AZ.
It's a better time in history to be a gamer today than it ever has been, in all of digital entertainment history. Not only do new vibrant, challenging titles hit the shelves on a weekly basis, but society has come to understand the practical and emotional value in gaming. A study by the Entertainment Software Association reported that 7 out of 10 parents report that video games help to stimulate their children's imaginations, while 6 out of 10 believe that video games help to keep the family spending time together. When it comes to your choice of device for video games, however, you're presented with two options: PC or console. Which works better for you?
All About Retro
No matter how many flashy graphics, beautiful textures, and quality voice animations a new game packs into its disc, some just prefer the classics over the modern when it comes to gaming. For all those who relish playing titles from their childhood, PCs allow a user to download an emulator that allows any gamer to play classic hits ranging from Pac-Man to the original Mario Brothers. Emulators have proven so popular at drawing gamers' attentions that game developers like Sony have launched lawsuits to attempt to get their customers back. While you can still play a Nintendo 64 game on a Nintendo 64, you can't access 100 Nintendo games at the same time, and certainly cannot play a Nintendo game on a Microsoft or Sony console.
Competition Factor
Come for the singleplayer, stay for the multiplayer! More and more gamers today have elected to skip the former in favor of the latter, which an MMORPGs like EVE Online shows by raking in $65 million per year from the hundreds of thousands of players who prefer to test their skills against other e-foes. Multiplayer benefits PC and consoles alike, but across different types of games: PC has a stranglehold on strategy games and role-playing games, while consoles dominate fighting and racing multiplayer platforms. Split down the middle are first-person shooter titles like Battlefield 4, which was released to PC users on Origin.com and consoles users in disc form simultaneously. BF4, furthermore, allows console users to check their stats on a PC, while PC users can import their profiles to a console.
Difficulty Curves
Wizened gamers may prefer their particular game on their particular platform, since there are difficulty curves to any game, regardless of its origins. In fact, those good enough at a particular game can even make a living from it – such as the Korean professionals who bring in six-figure salaries due to their micro and macro skills in Starcraft. For a beginner, conversely, there's no question: console games have a lower difficulty curve and are easier to get into. Partly, it's the difference between a controller having only a half-dozen buttons while and a keyboard and mouse have ten times as many. Mostly, however, game developers target console users for party game developments. Nintendo even noted their target audience for the Wii U launch is kids and families, offering games that young and old alike can pick up and quickly enjoy. Pros may prefer the PC, but gaming novices should hone their skills on a console first.
Author Credit: SocialMonsters.org