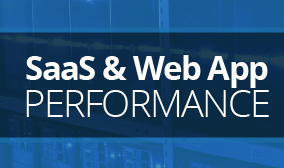 Does Your SaaS Application's Delivery Performance Meet User Expectations?
Are you losing SaaS or Web App users to slow delivery?
If your SaaS or Web App is running slow, so are your users.
Users expect your SaaS or web app to perform the same as on-premise software, and be accessible anywhere there's an Internet connection—from any device.
To meet your users' delivery performance standards, you must have an operationally efficient infrastructure, built and optimized for consistent high-speed performance and availability, worldwide.
But, there's a dilemma causing a lack of control over the performance of SaaS and Web Apps. It's called…the Internet.
For an end-user to run your SaaS or Web App, an Internet connection is required at all times—especially for end users on the move. However, the Internet's hundreds of thousands of interconnected networks were never built to handle the demands of SaaS and Web App delivery. Issues caused by rerouting in the interconnected network exacerbates delays. Tables need time to reroute, while a complex app stack of chatty protocols and applications require hundreds of thousands of round-trips just to complete a transaction. What's more, after a BGP failure, it could take several minutes for routing tables to be updated.
All of these issues are compounded when your global user-base grows.
When you're unable to deliver your SaaS or web apps fast, you lose users. Poor network performance and availability can kill your business.
What if there was an acceleration platform out there that could make your SaaS or web app load 3x faster? What is that worth to you?
SaaS Acceleration is uniquely built to improve operational efficiency and deliver faster, LAN-like performance by providing:
100% Availability SLA: Give your users 100% continuous network uptime.
Operationally Efficient TCP Anycast Routing: The only network built and optimized for the fastest throughput file delivery of small and large files.
Real-Time Network Intelligence: Your users will always reach your infrastructure with edge connectivity from 40+ global POPs.
Rerouting/Instant Failover: Our network dynamically routes around outages to find the best path to deliver 100% uptime.
Global Networks: We use the best peering partners to reduce the number of hops between ISPs which also provides a more direct route to mobile users.
On-Net Origin Support: SaaS Acceleration eliminates transit connectivity problems by allowing you to cross connect directly into 100+ global colo locations.
Transparent Caching: Allows you to automatically cache static objects at the edge without changes to origin infrastructure.
If keeping your users happy and growing your business is a priority, it's your obligation to provide your users with the best experience possible.
Make a commitment to your end-users. Give them the highest delivery performance, reliability and 100% availability.