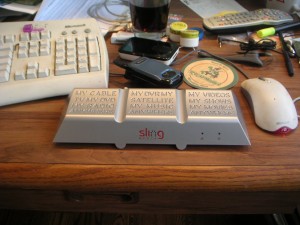 Sling Media gets Windows 8.1 app and iOS app updates
Although plenty of cable and television broadcasters claim that their apps and services allow users to experience TV on-the-go, Sling Media has been delivering on this idea since 2006 with its flagship Slingbox product. Slingbox devices connect to TVs to capture a signal and stream it anywhere in the world via the SlingPlayer app.
This app was previously only available on desktop and laptop computers, with a bare-bones app also available for iOS devices. Sling Media recently announced a huge update for its SlingPlayer app on iOS devices, as well as a brand new app for Windows 8.1 users. These new apps are compatible with the current Slingbox model, which has been on store shelves for just over a year.
Split-screen features provide second-screen experience for iOS
The iOS app update features a refreshed design with a split-screen function that allows viewers to search for new shows and to access integrated social media tools on a second screen. Sports fans can even opt to have stats, real-time scores, and trivia displayed right alongside a game in progress.
In addition, the refreshed iOS app supports these features when you stream HD content to your TV, which can make the app function as a true second-screen experience. In this case, these additional display features will fill the screen instead of occupying just one side.
Windows 8.1 app brings versatility
Sling Media also recently released a native app for Windows 8.1, which brings some much-needed flexibility to the platform. Although the Windows app doesn't offer the deeper features of the updated iOS app like the split-screen function, it does support native video playback, and tablet users will enjoy the same wireless streaming to connected television sets as other platform users. This Windows app is compatible with most recent generation Slingbox devices, including Slingbox 500, Slingbox 350, Slingbox PRO-HD, and the Slingbox SOLO.
Photo credit: Flickr