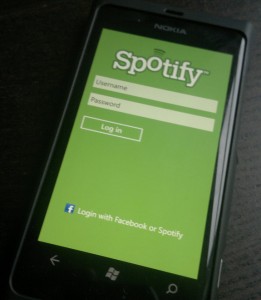 Spotify mobile brings free listening to smartphones and tablets
Music streaming service Spotify recently tweaked its offerings to allow users to listen for free on mobile devices, with a few restrictions. According to Reuters, the revamped Spotify mobile app will allow users to listen to individual tracks, full playlists, and albums, but non-paying members will be restricted to listening to playlists and albums in shuffle mode. Offline listening is not available to mobile listeners who are not subscribers.
Making the case for paid subscriptions
Although Spotify has almost 24 million monthly users, only 6 million of those users have upgraded to Spotify's ad-free mobile listening service, a 25 percent margin. However, Spotify Founder and CEO Daniel Ek said he is hoping to improve this margin with these new features, believing that once users see what they can and cannot do with the free version of the mobile service, they will want an experience that allows for unlimited listening — anytime, anywhere — and they will upgrade their service.
Desktop P2P vs. mobile CDN
One of the most unique things about Spotify is its peer-to-peer (P2P) structure. Rather than delivering content from a single hub, desktop listeners are connected via a large network where files are shared between users and songs are stored in a local cache on their computers. However, with mobile listening, it is not possible to maintain local caches, especially as data speeds and memory availability differ widely from device to device. Luckily, Spotify mobile uses a content delivery network (CDN) designed specifically for mobile listeners that delivers tracks with low latency so that there is no interruption between tracks.
As Spotify grows its user base, both the P2P network and the CDN allow for great flexibility, which gives the music service the flexibility to grow and change over time. The result of this hybrid strategy is a mobile experience that delivers the same quality as the desktop experience, but uses different technology to serve requests in a seamless manner to ensure that listeners won't miss a beat.
Image source: Flickr