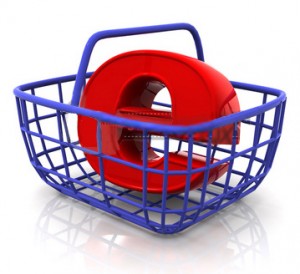 Technology drives consumer spending toward e-commerce over the past decade
Tracking the advances in technology in the last 10 years reveals the tech world's significant impact on the growth of e-commerce. With more people shopping online — first on their computers and now on their smartphones — it is no surprise that Internet consumer spending led to a record $1.735 billion in revenue in the United States on Cyber Monday 2013, according to comScore.
This e-commerce sales explosion did not happen overnight. It has been a steady increase year-by-year driven by advancements in technology. The wide availability of broadband Internet access, the introduction of the iPhone, and the growing dominance of the cloud-based retail behemoth Amazon.com have all combined to make the Internet an important element in most consumers' shopping experience.
2003–2006: The beginning stages of the online shopping era
In 2003, according to IT Business Edge, 55 percent of the homes in the United States had access to the Internet, but more than half of those connected residences used slow dial-up services. Many of those 2,400-baud users probably only accessed email and other services that did not require a lot of bandwidth. Consumer holiday spending, on the other hand, remained focused on big box retailers, with Black Friday holding its status as the busiest shopping day of the year.
With broadband Internet services gradually gaining more customers, users began to leverage online sources to research purchases. Users occasionally made purchases over the Internet. Eighty percent of Internet users shopped online in the 2004 holiday season, but that made up only 10 percent of overall consumer spending. Still, there was little doubt that as more people gained access to broadband services, e-commerce would truly take off.
The term "Cyber Monday" was coined in 2005 by shop.org. The moniker described the habits of customers who used the high-speed Internet service at their workplace to take advantage of special retail deals available after Black Friday and the Thanksgiving holiday weekend. The following year, Cyber Monday sales totaled $608 million, a daily e-commerce record at that time.
2007–2009: The rise of mobile technology
Apple's introduction of the iPhone in 2007 ushered in a new age of mobile technology. Following in its footsteps was the wildly popular App Store. It created an entirely new marketplace for software developers, which was to grow to $10 billion in sales in 2013. Users began shopping online with their smartphones — either Apple's iPhone or a model powered by Google's soon-to-follow Android platform — no matter their location, provided they were able to access the Internet.
At this point, most consumers still used a PC for their online shopping, with laptops gaining market share over desktops. Still, the number of users leveraging a mobile shopping experience on their smartphone grew. Some online shoppers took advantage of apps that provided insight into Black Friday deals or leveraged bar code-scanning features for in-store price checks.
2010–2013: E-commerce becomes commonplace
IT Business Edge states that consumer spending on Cyber Monday topped $1 billion for the first time in 2010. The introduction of the iPad added another platform — the tablet computer — to the mobile technology landscape. There were so many online shoppers that American Express introduced Small Business Saturday to remind customers to support the small brick-and-mortar retailers in their own city or town.
QR codes became widely used in 2011 and were developed to simplify mobile transactions. With 35 percent of Americans owning a smartphone, many shoppers still leveraged the venerable PC for their online shopping experience. Sales for Cyber Monday 2012 approached the $1.5 billion mark after nearly topping $3 billion over the Thanksgiving weekend. Online sales for the entire year grew by a total of 30 percent.
At the end of 2013, 70 percent of Americans enjoyed broadband Internet access, and nearly two-thirds owned a smartphone. It is a tech-savvy customer base that expects a superior online shopping experience delivered on either a smartphone, tablet, or a PC. Online retailers should pay special attention to their technology stack to ensure there are no hiccups that may drive a potential customer to a competitor with a better website or online store.
Ensuring the best possible e-commerce experience in today's marketplace
Smart e-commerce retailers know that their website must provide state-of-the-art performance to ensure that online consumer spending continues to grow. The easiest path to a superior online shopping experience involves partnering with a leading content delivery network (CDN) provider. This allows the retailer to focus on driving customers to its website while leaving the technology issues to the technical experts.
The best CDNs offer significant advantages to online retailers. Providing robust Web acceleration ensures that potential customers stay engaged with an online store; even a slight lag in loading a Web page leads to a notable decrease in customer satisfaction and ultimately to fewer conversions into sales.
CDNs are able to cache content and offer TCP-anycast-based routing to deliver rich media as quickly as possible. This is important for online stores that offer large images and videos of their products. When shopping for a CDN, make sure the provider guarantees 100 percent availability, because any downtime means zero sales.
The last 10 years have made e-commerce a normal part of the shopping experience. Savvy consumers expect state-of-the-art technology from their favorite online retailers. Providing anything less means that the smart shopper will look elsewhere to make their purchase.
Photo credit: Wikimedia Commons