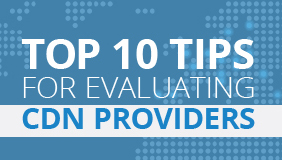 Top 10 Tips for Evaluating CDN Providers
Are you getting the most out of your CDN provider?
Not all CDNs are built the same. Whether you already use a CDN or are searching for one, this e-book covers the important criteria you need to know to effectively evaluate and choose a CDN provider that supports your growing business.
Save yourself some time. Learn the important questions you should ask CDN providers.
Download this e-book now. It's free!