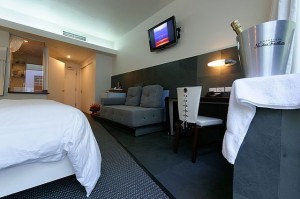 Vacation personalization: The role of social media in the hospitality industry
When you book hotel reservations on an online site like Orbit or Travelocity, you're handing over money to those sites as well as the actual hotel. According to Hotel Cluster, online travel agencies raked in $2.7 billion in hotel booking commissions in 2010.
These integrated travel websites and agencies seem to have a monopoly on personalization. Your air, hotel, and car reservations are bundled together, giving you cheaper rates. Then there's the convenience of integrating your holiday planning with social media applications, which further personalizes the experience because recommendations are tailored to you based on previous activities.
Well, the major players in the hospitality industry have decided to take back some of that action by making social media and personalization a major focus of their offerings, hoping to draw customers to their dedicated sites to make bookings directly. Here are some of the ways they are doing it.
Content marketing
Using content marketing enhances the personalization of your travels. Hotels are starting to utilize both paid and unpaid blogs, targeted Facebook marketing, and even enhanced travelogues in order to cater to consumers.
There is obviously no one-size-fits-all experience for travelers, so hotels must cater to a range of customers. Adventurous and seasoned travelers, for instance, like to take things into their own hands, staying in crowdsourced accommodations found on sites such as Airbnb in an attempt to feel like locals. Younger travelers enjoy socializing (and the cheaper rates) at hostels. But now, hotels are using blogs to market that same sense of adventure to consumers, highlighting destination spots that are easy on the wallet, but also provide an authentic and immersive experience.
Sheraton Hotels, for example, created the #socialhour initiative, providing opportunities for socialization among hotel guests while also tying the experience directly to Instagram, Twitter, and Facebook. On May 15, 2013, Sheraton Guests shared a simultaneous global toast during #socialhour, a unique event powered entirely by social media.
Social network integration
Have you ever tried a restaurant or visited a night club because you saw your friends rave about the food or drinks on Facebook or Pinterest? Social networking review sites like Yelp have a strong hold on consumer choice. The hospitality industry, too, is banking on the fact that you share your travels and interests with your friends.
Innovators like Double Tree Hotels partnered with Google to create a video, Twitter, and Facebook aggregator called DTour. The initiative offers not only Double Tree produced videos and content, but also provides a global map on which Double Tree hotel customers can share their individual travel experiences in videos, tweets, or Facebook posts. While traversing the DTour map, you can see the wide variety of activities and accommodations that Double Tree has to offer.
Smartphones
Yes, there is an app for everything, but many hotel chains either don't have apps or maintain apps that are fairly simple and uninteresting. Food service giants such as Dunkin Donuts and Pinkberry have apps that allow an amazing level of personalization. The Pinkberry app lets users recharge their Pinkberry card, acquire coupons, and easily share purchases and favorites on Facebook. Dunkin Donuts recently launched an instagram campaign using the hashtag #mydunkin, which encourages users to post their Dunkin Donuts inspired stories and photos on Instagram. The hospitality industry wants to build on this success and encourage volunteer content creation, tying in each step of the reservation process to a social media application.

The Ritz-Carlton mobile app doesn't stop at allowing quick room reservations and check-ins. The app is location aware, presenting you with special offers based on your current location. The Ritz-Carlton mobile app also allows you to access room service, provides location-based travel tips, and has social media integration.
Finding the right technology
Building the travel experience of the future is not only a problem for artists, designers, and creative professionals, but also for operations and development. The hospitality industry wants to utilize social media, produce corresponding mobile apps, distribute multimedia rich content, and enhance the personalization of your travels. The only way to distribute such media effectively is by using a content distribution network (CDN).
Mobile apps for hotel reservations need to be fast and responsive, and the multimedia-rich content such as images and video that will be incorporated must be dispersed across major points of presence (POP). These POPs will cache data and effectively distribute content to devices based on geographic location, allowing hotels to quickly distribute updated content and present fresh daily deals and perspectives to potential customers.
With hotels redesigning their Web applications to facilitate social media integration, their infrastructures will quickly become obsolete. Hotel chains are moving to the cloud and large data centers in order to keep up with customer demand. A CDN can replicate static features of hotel web applications globally so that customers can access content even when the hotel Web application is overloaded, ensuring a seamless user experience without costly discontinuities.
Business travelers require VoIP to make international phone or video calls. In addition, business customers may need to keep up on the international business climate by viewing global TV news channels. Content distribution networks can deliver streaming video and TV up to ten times faster than other solutions. Hooking up VoIP and IPTV with many points of presence allows content to be delivered quickly in hotels. Content distribution networks are the only technology which can allow every customer at a large hotel to stream video simultaneously, a feature necessary in today's globalized marketplace.
Marketing Experiences
According to Media Bistro, 30 percent of travelers find hotel deals through mobile apps, and 46 percent of all travelers "check-in" on social networks while on vacation. Events like DTour and #socialhour allows hotels to market tangible experiences, rather than just use their sites and apps for room reservations. As the hospitality industry continues to develop unique mobile apps and social media integration, the highlight of any vacation may soon be the personalization of your experience that these technologies offer.
Photo credit: Wikimedia Commons.