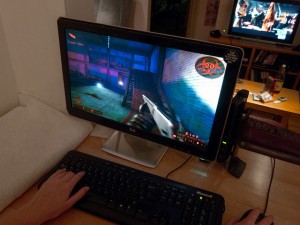 Valve testing in-home PC game streaming
Valve is currently testing a feature for its Steam gaming platform that would allow users to stream games from PC to PC and, eventually, PC to TV. This feature has the potential to free consumers from needing to purchase separate PC and TV consoles, allowing a single device to act as a "hub" for all gaming activity that users can tap into at any moment from any connected device. The one caveat to this PC game streaming ability is that the source computer will be locked down and unusable when the streaming feature is in use.
Taking over the living room
This idea could be a game-changer for Steam, which has been making strides toward taking the place of current gaming consoles. Several months ago, Valve announced it was working on "Steam Machines," specially designed computers running on a Steam operating system. Valve could use these new set-top boxes combined with PC game streaming to give current Steam users access to play their games on TV or PC—a potential selling point of the console.
Meeting the challenge of network latency
As with any game-streaming service, the main obstacle Valve will need to overcome is latency, especially over wireless networks. Though Valve has said that users testing the service with Ethernet connections will likely have a smooth streaming experience; those who are using a wireless network connection may experience lag as the service evolves.
Valve must solve the wireless streaming issue if in-home PC streaming is going to become a cornerstone of its forthcoming Steam Machines. Current testing data reported on the Steam Community Blog shows that close-range wireless connections respond quickly, but long-range connections have frequent delays.
A balancing act
Ultimately, the effectiveness of Valve's proposed in-home PC game streaming feature will require the company to develop flexible streaming capabilities that work with a variety of network configurations, and have little to no lag. Consumers who wish to use this feature may need to make changes to their home network, but Valve has to be careful not to isolate gamers who don't have the best hardware. It may be tough to balance the desire to improve game streaming with the limits that widely varying network hardware and configurations place on the service. However, as testing continues, we should find out more about how consumers with all kinds of gaming equipment can take advantage of this service, and how it will ultimately be implemented in Valve's Steam Machines.
Image source: Flickr