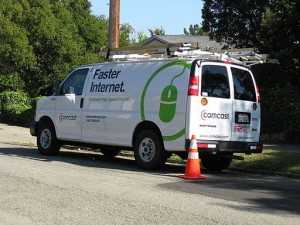 Video compression essential with bandwidth caps on the horizon
The announcement of a potential merger between Comcast and Time Warner Cable raised concerns from consumers and content providers that the combination of these cable TV and Internet providers could lead to bandwidth data caps and impact Internet usage patterns. The days of "all-you-can-eat" Web browsing and video streaming could go the way of unlimited mobile data plans. Remember those?
Web content providers, especially those offering video streaming, need to consider adding video compression to their streams in case Comcast's strict data cap policies — which are limited to 300 GB per month with a $10 penalty for every 50 GB overage, in some program testing areas — are carried over, should the merger of the Internet giants be approved by regulators. When faced with limited bandwidth, users are likely to stay away from websites that make no effort to optimize content delivery.
A closer look at optimizing Web video delivery
Leveraging video compression and other Web optimization techniques makes sense for today's content providers. It is important to keep bandwidth usage low while offering superior access to, and streaming of, rich media content. This provides the two-sided benefit of saving time and money for both the content provider and the Internet user.
The advantages of a Content Delivery Network
For most providers, a partnership with a leading Content Delivery Network (CDN) ensures superior delivery of streaming video content. Support for Gzip compression keeps data transfer to a minimum. Access to the Internet's leading peering points allows users to stream videos with minimal latency, regardless of location.
Bandwidth seamlessly scales on demand, so as a content provider gains more customers, video performance doesn't degrade. Support for all the Internet's standard video formats and media players means consumers are able to easily stream movies, TV programs, and other content. A 100 percent service-level agreement ensures users are able to access video and other Web content on a 24/7 basis.
The specter of bandwidth data caps on the horizon puts the onus on Web content providers to deliver rich media content as efficiently as possible. Working with a CDN is the best way to make this happen. Saving bandwidth and money makes for happy customers and a robust bottom line.
Photo credit: Wikimedia Commons