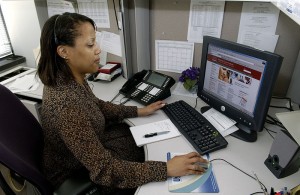 Women surpass men in 2013 tech industry hires
Women are continuing to make strides in the historically male-dominated tech industry, with new statistics from the U.S. Bureau of Labor Statistics (BLS) showing that women accounted for more new hires this year than men.
The BLS found that 60 percent of the country's 39,000 tech industry jobs (which include everything from software to gaming) created in the first nine months of 2013 have been filled by women, InfoWorld reports. That's up from 34 percent in 2012, and marks the first time in a decade that women have overtaken men as new hires in the sector. By contrast, women accounted for 30 percent of tech new hires on average over the last 10 years. While these statistics only apply to new jobs in the industry, it could herald a new age of equality for tech.
The beginning of a new trend?
The BLS data also reveals another interesting point: the number of women hired in the first nine months of 2013 is steady compared to previous years, but the number of men is much lower. It isn't yet clear why this is occurring, but given that unemployment in the industry is low (averaging 3.65 percent this year, compared to the whole economy average of 7.5 percent), it is possible to make a connection between the tech boom and the increase in female hires.
Elizabeth Ames of the Anita Borg Institute, an advocacy group for women in tech, spoke to InfoWorld about these numbers and stated that it is "too early to say" whether these new numbers indicate an emerging trend with lasting effects. However, she feels encouraged overall, adding that "we are seeing more awareness of the issue and seeing leaders in the technology business realize it is an imperative to bring women into tech workforces."
A long way to go for the industry as a whole
Though it looks like 2013 will go down as a banner year for women in tech, the industry as a whole is still very male-dominated. Of the estimated 1.7 million people working in the tech industry, only 31 percent are women. Even with a few more years of female new hires outpacing their male counterparts, it will take quite a long time for women to even get close to representing half of the workforce in this sector.
According to The New York Times, big companies are especially affected by gender inequality. Companies like Apple, Google, Facebook, and Microsoft average only a 25 percent female workforce, which is lower than the national average. There are no simple answers as to why larger companies hire fewer women, especially when data reported on by the Silicon Valley Business Journal suggests that women in the tech industry may actually provide a better return on investment for big companies. The study found that women-operated, venture-backed high tech companies average 12 percent higher annual revenues and use, on average, one-third less capital than male-led start-ups.
Janet George, managing director of Accenture Technology Labs in San Jose, Calif., believes that big tech companies are missing out when it comes to hiring more women. "Women are different," George said. "How we think is different. Women are much more detail-oriented. This diversity can be a huge strength in meetings, team collaboration, and how a company develops partnerships." George, who has worked at a variety of large tech companies like HP, Apple, and Yahoo over the years, said that she has seen more women in the workplace over the years, but equality in the workplace is still a long way off.
It will certainly be interesting to see if this increased pressure on big tech companies to hire more women will produce any results in the future. It is clear that having a diverse, gender-equal workforce is a good idea, but the question is whether or not the "old habit" of favoring men over women at big companies will finally die out.
Looking at the bigger picture
Women outpacing men as new hires is certainly a great place to start in the battle for workplace equality, but overall, men still dominate the industry. Women historically do not occupy high-level positions with low turnover rates such as network administrator, engineer, or IT manager. Employees tend to stay in these high-level positions longer, because they come with higher pay and better job security. Hiring women for these positions would help shift the needle in the long term.
Unfortunately, in the current IT world, positions most often occupied by women are generally low- to mid-level, such as data entry and management. These jobs have a higher turnover rate, which means less job security and therefore a higher possibility that a departing woman would be replaced by a man.
Gender equality is certainly a complex issue in the IT world, but judging by these new gender representation trends in the industry, solutions for these discrepancies seem to be on the horizon.
Image source: Wikimedia Commons