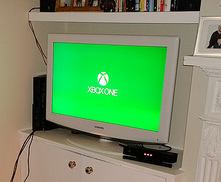 Twitch.tv streaming feature from Xbox One pushed to 2014
Microsoft has delayed the release of its Twitch streaming function on the newly released Xbox One console until 2014. In a statement on the official Xbox site, the company said that the delay was necessary to "ensure the initial Twitch on Xbox One broadcasting experience meets the expectations of the Twitch community."
Twitch.tv is a website that streams live gameplay video directly from consoles, allowing other Twitch users, predominately gamers, to watch them. The feature is currently available on the PlayStation 4, and boasts 44 million viewers per month.
The delay is obviously disappointing for Xbox users, but Microsoft is promising several new features. The Xbox One version of the Twitch.tv app will utilize the console's "snap" feature, which will keep the app running while users do other things, and will also support achievements that users can unlock by using the service. The app will also be a part of OneGuide, which means users can launch it using voice commands.
According to gaming site VG24/7, Xbox One users can still use to the Twitch app to view videos right now, but they cannot stream their own from the console.
So far, reactions to the Twitch app on the PlayStation 4 have been positive. Users are able to broadcast in real time, and viewers are able to stream content from a console quickly and with minimal lag. Though the PlayStation 4 has only just been released, it looks like the additional load on Twitch has not caused any issues with the service.
Of course, a successful launch on the PlayStation 4 doesn't automatically guarantee a worry-free start for the Xbox One version, especially considering the user base for Microsoft's console will be much larger in 2014. Still, the success on PlayStation 4 certainly bodes well for the Twitch TV's future with Microsoft when the app is released next year.
Image source: Flickr.