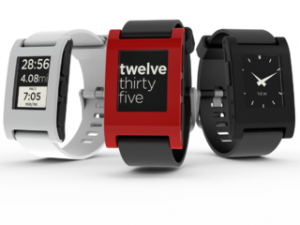 The 2014 technology trends to look out for
As 2013 ends, we can look back fondly on the year that brought us Google Glass, the next generation of video game consoles, and even saw the reintroduction of the Start button in the Windows operating system. Next year promises to be even bigger, with plenty of game-changing tech on the horizon. Here's a look at the biggest 2014 technology trends.
Wearable technology goes mainstream
We've had plenty of attempts at wearable technology this year. Samsung, Sony, and start-up Pebble offered their spin on the smartwatch, and Google debuted the revolutionary Glass. Each of these devices brought something to the wearable technology trend, but none were able to break through in a meaningful way.
Next year will change that. Companies are hoping to hone in on an aesthetic that will make wearable technology appealing to consumers, and application developers are beginning to create apps that make wearable technology more usable. Instant application delivery to these devices will ensure that users always have the latest technology literally at the edge of their fingertips.
Another big reason why 2014 will be the year of wearable tech is that Apple is rumored to finally debut its smartwatch. Apple was the first company to bring smartphones to the masses with its iPhone, and also got tablets into homes with its iPad, and there's no reason why it shouldn't repeat this success a third time with its first smartwatch offering. Samsung is also debuting a follow up to its Galaxy Gear smartwatch next year, and will hopefully include broad support for Android smartphones outside of the Samsung family of devices (which is something that limited the appeal of their first effort).
The Internet of Things explodes
The Internet of Things has been gaining steam over the past several years, but this concept (which revolves around putting Internet connections in everyday devices so that machines can "talk" to one another to make our lives easier) will finally take off in 2014. This technology has existed for years, but device connectivity and cost has been a huge roadblock to mass adoption.
But 2014 will be different. Companies such as Qualcomm, Intel, and Texas Instruments have recently debuted inexpensive, power-efficient chips that can use regular Wi-Fi or a smartphone via a Bluetooth low energy connection to get multiple devices connected to the Internet. This new connective technology will provide an avenue for smart devices to finally penetrate the market in a meaningful way. No companies have announced official plans yet, but Apple is rumored to be developing a smart dock that can connect to peripheral devices around the house, and could act as a hub for an Internet-connected home. Retail stores will also use this technology to broadcast sales and deals specific to a shopper's position in-store, thanks to Apple's iBeacon feature. In-store displays will be able to "talk" to shoppers, providing product and pricing information on-demand.
Mobile devices leave the flat world behind
With the announcements earlier this year of the Samsung Galaxy Round and the LG Flex, which boast curved screens, consumers were exposed to the idea that displays on phones and tablets don't have to be flat. Consumers can expect even more curved displays on mobile devices in 2014, with even Apple rumored to be developing curved displays for phones and its smartwatch. Samsung has also showed off prototypes for folding phones and tablets in closed meetings that are rumored to be eyeing a late 2014 launch.
None of these ideas are completely new, but decreased cost and greater availability will make 2014 the year that these trends finally go mainstream.
Image source: Wikimedia Commons.